For the 3rd time since I started my not-so-new job, a friend has reached out to me asking if I could help them get into the company.  (4th if you count a douchebag who is not a friend so much as a raging asshole with no soft skills whatsoever).
I'm always willing to help a friend out with the job hunt if I can.  Unfortunately, these people already applied to my company before talking to me.  This move disqualifies me for receiving any referral bonus that I would get if they were hired.  I know that sounds a little a greedy but hey I have small children to feed.  After taxes the referral bonus could cover a month of daycare if not more.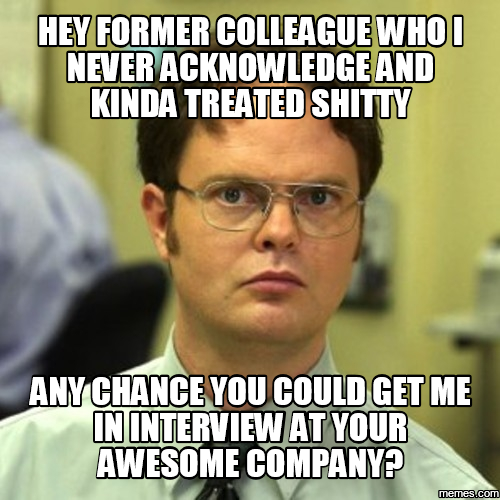 Here's the thing.  You're asking me to help you get a six figure job (or high five figure) and you want me to put in the effort for nothing?  Brownie points and good feelings only go so far.  Compared to liking a stupid Facebook page for instance.
You're asking me to stick my neck out and vouch for you.  Why wouldn't you want me to get rewarded for that?  I know, you didn't realize it worked that way.  Considering this is a fairly standard policy that tells me you haven't tried to help someone get a position recently.   Ahem…with at least one of these people, I did tell explicitly tell them to talk to me before applying because of the referral bonus policy.
What's that?  You still want me to see if I can reach out to the hiring manager?  Sure, as soon as you send me the equivalent of the lost referral bonus.  Don't worry, if you don't get hired I promise I'll eturn it.
*****************************
Have you ever recommended a friend for a job and regretted it? Tell me about it here in the comments, then swing by my Facebook page and LIKE it! You'll find funny, informative links and interesting pictures.  Don't worry, your FB feed won't get overwhelmed.
Follow Mysteries of Life on Twitter (@MysteriesOLife), Facebook or subscribe via email.
**************